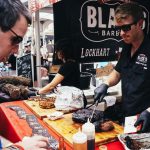 Smoked BBQ Festival is coming to Fort Worth Saturday, October 13th! The Ranch and Hank FM Radio stations are proud to partner with Smoked Fort Worth for a Texas sized food fest in front of the Livestock Exchange Building in the Historic Fort Worth Stockyards.
Dozens of Pitmasters from across Texas will join forces to smoke, cook, and serve savory meats all while benefiting Cops for Kids in Fort Worth. For a full list of participating Pitmasters, visit Smoked Fort Worth
These noted Pitmasters will be joined by an array of amazing musical artists bringing their talents to the Fort Worth Stockyards for the event. The main stage features Adam Hood, The Vandoliers, and Brandon Steadman. Charlie J Memphis, Simon Flory, Chris Erickson and Joshua Ray Walker perform on the Summerfield at Tate Farms Stage.
General Admission passes to the event are $50 in advance and allow for entry into the festival at 2 p.m. along with three hours of included BBQ tastings, live music and games. General Admission Children's Passes for those ages six to twelve are $10. Children under five get in free. VIP Passes to the event are $90 in advance and allow for entry into the festival at 1 p.m. for an extra hour of exclusive BBQ tastings. Upon arrival, VIP pass holders receive two complimentary drink coupons, access to the premium VIP area with a VIP bar and VIP restrooms.
Tickets to Smoked Fort Worth are on sale now at http://www.smokedbbqfest.com/smoked-ft-worth/
Share & Enjoy