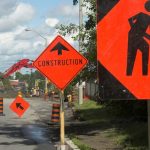 (Weatherford, TX) – Major construction projects are underway in Weatherford and Willow Park, causing delays for Parker County residents.  According to the Weatherford Democrat, the project in Weatherford begins at the intersection of South Bowie Drive and Interstate 20 West Frontage Road.  The project cost nearly $1.3 million and has been funded through the Tax Increment Reinvestment Zone.
In Willow Park, construction is taking place at the Mikus Road and I-20 intersection and on Ranch House Road.  The city says the $4 million project will add new turnarounds under I-20 and reconstruct the intersection to improve traffic flow. TxDOT hopes the reconfiguration will alleviate traffic for Parker County residents who travel through Willow Park on the way home to neighboring communities.
Barring any unforeseen circumstances or weather-related delays both projects should be completed by sometime next Fall.
Share & Enjoy