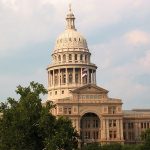 (Austin, TX)  —  A state Senate bill to restrict local property tax collections will now go to the Senate floor for debate.
The Senate moved it forward on Monday by a 19-12 vote, after the sole Republican holdout finally gave his approval.  Senator Kel Seliger of Amarillo opposes the bill and says he'll ultimately vote against it.  But Lt. Gov. Dan Patrick recently threatened to change the Senate rules and allow the bill to come up for debate by a simple majority vote, instead of the 19 votes currently required.
Seliger said he didn't want to see that rule change take effect, so he voted to advance the bill, a priority of Gov. Greg Abbott this session.
Copyright © 2019 TTWN Media Networks LLC
Share & Enjoy