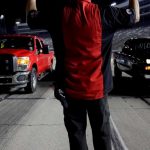 the 11th annual Universal Technical Institute Friday Night Drags launches from the starting line June 21 for the first of six consecutive weeks of the  "run-what-you-brung" amateur drag racing series at Texas Motor Speedway.
Straight-line racers in seven vehicle categories will do battle in heads-up 1/8-mile competition on the Texas Motor Speedway pit road for weekly winners and valuable points toward crowning end-of-season champions. From the Bandit Division, that includes three-cylinder foreign-built automobiles to the Summit Racing Equipment Outlaw Division that allows for 31-inch wide racing slicks, there's a category for just about every amateur drag racing fan and competitor.
UTI Friday Night Drags competitors must be 18 or older to participate and the entry fee is $20 per week. All vehicles must pass pre-race inspection to participate and all drivers must wear an approved helmet. Helmets can be rented at Texas Motor Speedway for $10 per night.
"Universal Technical Institute Friday Night Drags has become a summer tradition at Texas Motor Speedway over the past 10 years, with last year's weekly car count averaging nearly 270 and the number of spectators in attendance growing year after year," said Texas Motor Speedway President Eddie Gossage. "It's great fun for family and friends and the perfect way to start the weekend."
Texas Motor Speedway will host for the first time a practice night Wed., June 19, from 7-10 p.m. It will be an opportunity for participants to get an early jump on tuning their vehicles in preparation for the season's first race two days later.
Gates and grandstands open each Friday at 6 p.m. Spectator tickets may be purchased at Gate 6 for $10 for adults and $5 for children under 12. Spectator parking, located outside Gate 6, is free and infield parking is available for $20 which includes driver admission. Coolers are allowed in the grandstands and the infield. Tickets may also be purchased ahead of time online at www.texasmotorspeedway.com.
The seven racing categories include Bandit Division, Summit Racing Equipment Sportsman Division, Summit Racing Equipment Sportsman Modified Division, Snap-on Tools All Wheel Drive Division, Super Car Division, Texas Born Performance Black Smoke Warrior Division, and the Summit Racing Equipment Outlaw Division. For further information on the competition categories, go to www.texasmotorspeedway.com.
Race registration and technical inspection will be open from 6:00-9:00 p.m. Practice runs will be scheduled from 6:15-8:00 p.m., with opening ceremonies at 9:10 p.m. and racing kicking off at 9:15 p.m.
Back for another season will also be the always popular In-N-Out Burger Show-N-Shine car show competition. It's a hotly contested part of each event minus the speed element. Located in the South Paddock area of the infield, Winners will be chosen and awards given in three categories: Best of Show, Best Classic (1972 or prior year), and Best Current Custom (1973 or newer). Participants will also get to make a parade lap around the 1.5-mile track.
The Torchy's Tacos store located in the Texas Motor Speedway infield will be open for each event from 6-11 p.m.
The 2019 Universal Technical Institute Friday Night Drags schedule
June 21: UTI Night with $5 off for staff, students, and alumni
June 28: TBD
July 5: Fireworks Night, Military/First Responder Night presented by Snap-On
July 12: Tim Montana concert
July 19: TBD
July 26: Fan Appreciation Night
Share & Enjoy