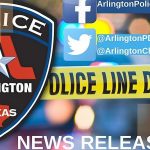 (Arlington, TX) — Arlington police are investigating after an officer shot at a loose dog on Thursday and fatally wounded a woman nearby.
The officer was called out to check on a woman who was passed out in a grassy area behind Seville Commons shopping center near Cantor Drive and North Collins Street, when the dog apparently started running toward him.  The police department said the officer started backing away while firing his gun several times.  The woman was hit by the gunfire and pronounced dead at a local hospital.
She's been identified as 30-year-old Margarita Brooks.  Witnesses said she was homeless.  It's not clear whether the officer will face charges.
Copyright © 2019 TTWN Media Networks LLC
Share & Enjoy