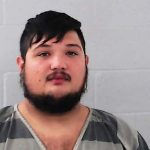 (Johnson County, Tx) – A Burleson man has been handed a total of seven charges in connection with a drunk driving accident that took the life of a woman and her unborn child nearly two years ago.
23-year-old Nathaniel Lee Schaffner was indicted on two counts of intoxication manslaughter, two counts of manslaughter and three counts of aggravated assault with a deadly weapon.  According to the Cleburne Times Review, Schaffner was traveling west on FM 917, east of Joshua, at a high rate of speed when he lost control of his car and struck the right side of a car parked in a private driveway facing north.  18-year-old Samantha Usher, of Arlington was sitting in the back seat of that car and died at the scene. Usher's unborn died as a result.
Three other people sitting in the parked car were also injured in the accident.  Schaffner remains in the Johnson County Jail on $75,000 bond.
Share & Enjoy