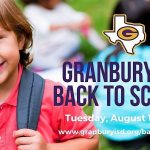 (Granbury, Tx) – Granbury ISD is one of five North Texas school districts that begin classes today.
The district posted on Facebook:
Doors open at 7:10. Breakfast starts at 7:10. School starts at 7:30. Please be patient with traffic in the parking lot all week! It will be crowded in the parking lot and inside the building at drop off the first few days.
-Students come to cafeteria and sit with their class. Teacher names will be posted at the tables.
-Make sure your student has a lunch. If buying lunch, put money on student account in the cafeteria.
-Tell the teacher how your student is going home. If by bus, your kiddo needs a bus bracelet. If by car (car line or walk up line) you need a parent pick up tag. You will be asked to go to the office with your ID if you do not have a parent pick up tag.
-Please be patient in the car line and walk up line. It is a process as everyone learns the dismissal procedures. The first few weeks will go slowly but we will get it down to a much faster process.
Share & Enjoy