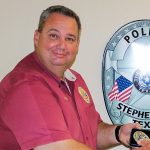 (Stephenville, Tx) – Stephenville Police Chief Jason King has become the new assistant city manager.
The Stephenville Empire Tribune reports King's new role was made official during Monday's City Council meeting.  City Manager Alan Barnes said they received 95 applications for the position and picked King among four finalists,".  King will continue working in a dual role until a new chief is hired.  He Jeremy Allen who left the job in June.
Barnes said the city will soon conduct a nationwide search for its next police chief.
Share & Enjoy