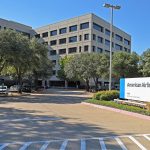 (Fort Worth, TX) — Airline catering workers are demanding higher pay from American Airlines.
A crowd of workers from LSG Sky Chefs, the airline caterer for American, protested outside the airline's new headquarters in Fort Worth on Tuesday.  Dozens were arrested.  Other workers picketed at DFW's Terminal D, and said they plan to keep it up for the next few days.
The protesters claim American doesn't pay them as much as other airlines do.  They say their next step will be to go on strike.
Copyright © 2019 TTWN Media Networks LLC
Share & Enjoy