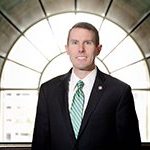 (Dallas, TX)  —  Police are investigating the sudden death of Dallas County assistant district attorney Justin Lord over the weekend.
Police in the Ellis County town of Palmer found the 44-year-old prosecutor walking down the street with a bloody nose early Saturday morning.  He had abandoned his car after driving it into a ditch.  After a blood draw at a local hospital to test for DWI, a friend took Lord to his home in Rowlett, where he was later found dead.
The DA's office is not commenting on the possible cause of Lord's death.
Copyright © 2019 TTWN Media Networks LLC
Share & Enjoy