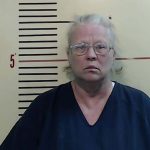 (Springtown, Tx) – A Parker County grand jury has indicted a Springtown woman in the bathtub drowning death of her 9-month-old grandchild.
Prosecutors say the baby was in the care of 54-year-old Palastrena Jeanette Conklin, before dying at an Azle hospital last May.  Conklin reportedly told investigators that she put her grandchild in a foam seat in the tub and only stepped away for a few minutes while the tub was filling with water.  When she returned, she said the baby was submerged in the water and unresponsive.  She reportedly later admitted that she stopped to watch TV and thought she had shut the water off.
Conklin has been formally charged with injury to a child recklessly causing serious bodily injury.  If convicted, she could get up to 20 years in prison.
Share & Enjoy