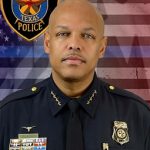 (Fort Worth, TX) —  Fort Worth city officials are appealing a court order to turn over certain digital documents related to a lawsuit by the former chief of police.
The city fired Joel Fitzgerald from the position in May for what it called actions that undermined confidence in his leadership.  Fitzgerald claims it was because he was about to expose corruption at city hall, and he's suing to get his job back.  Both sides were in court on Wednesday.
The city says Fitzgerald's request for emails and instant message chats is unreasonable and burdensome.
Copyright © 2019 TTWN Media Networks LLC
Share & Enjoy