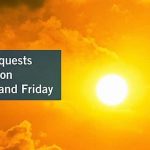 (Austin, TX)  —  The operator of the state's power grid is again asking Texans to conserve energy today.
The Energy Reliability Council of Texas is asking residents and businesses to limit electrical usage, especially between 2 and 7 p.m.  ERCOT is making the request because of the continued extreme heat statewide.  An ERCOT spokesperson says energy conditions will be especially tight in the "major urban load centers" of Dallas, Houston, San Antonio, and Austin.
The agency suggests bumping up the thermostat a few degrees.
Copyright © 2019 TTWN Media Networks LLC
Share & Enjoy