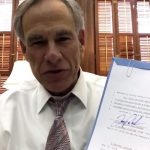 (Austin, TX)  —  Governor Greg Abbott is issuing eight executive orders in response to recent mass shootings in Texas.
Abbott says the orders will enhance reporting requirements and calls them a starting point for discussions on how to prevent violence.  They include standardized intake questions on whether information should to go the Texas Suspicious Activity Reporting Network and how reports should be submitted.
Other executive orders announced this week increase staff at fusion centers to monitor social media and websites for potential threats.
Copyright © 2019 TTWN Media Networks LLC
Share & Enjoy