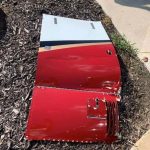 (Southlake, TX)  —  The Federal Aviation Administration is trying to figure out what caused a piece of a plane to fall off as it was flying over Southlake on Friday.
An engine cowling, a metal piece that covers the engine, fell off a plane that was on its way from Jacksonville, Texas, to Decatur.  The piece fell onto Continental Boulevard, near Timarron Country Club, shortly before 5 p.m.  There were no injuries on the ground.
The pilot noticed when the cowling fell off, and he landed safely at Meacham International Airport in Fort Worth.
Copyright © 2019 TTWN Media Networks LLC
Share & Enjoy