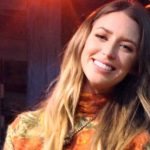 (Taos, NM)  —  The Taos County Sheriff says rising country music singer Kylie Rae Harris caused the crash that killed her and a New Mexico teen.
The sheriff says certainly, Maria Elena Cruz was an "innocent victim" in a "senseless" crash caused by Harris.  The singer was on her way to a performance when she clipped the back of Cruz's car, sending her car head-on into Cruz's car.  Investigators say speed appeared to be a contributing factor.  The crash is still under investigation, pending the results of toxicology test.
Harris, who lived in Wylie was just 30 years old.
Copyright © 2019 TTWN Media Networks LLC
Share & Enjoy