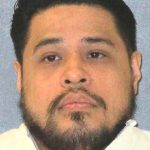 (Cleburne, Tx) – Barring a last-minute reprieve, an execution is scheduled to take place tonight for the convicted killer of a Godley woman and a Fort Worth delivery driver.
37-year-old Mark Anthony Soliz has been on death row since his 2012 Capital Murder conviction in Johnson County.  According to the Cleburne Times Review, in June 2010, Soliz fatally shot a delivery driver at a Fort Worth convenience store before killing 61-year-old Nancy Hatch Weatherly while robbing her home near Godley.  Several days leading up to those killings, Soliz went on a crime spree, that included a carjacking, armed robbery and several other shootings.
The U.S. Supreme Court rejected an earlier appeal by Soliz in 2015.
Share & Enjoy