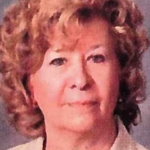 (Fort Worth, TX) — The Fort Worth ISD school board isn't yet stating a decision about the requested reinstatement of a fired teacher.
Georgia Clark was fired from Carter-Riverside High School after she sent a tweet to President Trump asking him to do something about the large number of illegal immigrant students in the district.  Clark appealed her termination, and an independent reviewer determined she should not have been fired.
The board voted Tuesday night to hold a special meeting within ten days to make a final decision on whether or not Clarke gets her job back.
Copyright © 2019 TTWN Media Networks LLC
Share & Enjoy