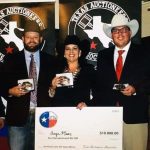 The Texas Lone Star Open held their 4th contest and PR event at the 2019 Red Steagall's Cowboy Gathering on October 25 in the Ft Worth Stockyards. The Texas Auctioneers Association hosted the open bid calling competition and auction education in the Stockmans Club in the Stockyards Station 3pm-6pm. The event is held in partnership with the Red Steagall Gathering.
Contestants included 26 contestants from Texas and 8 other states! They competed for cash prize of $10,0000 for 1st place and a custom silver buckle created by HYO Silver. The audience bid on great items, as well as cheered on their favorite contestant. The contest was live streamed and recorded by Superior Livestock Auctions and will be available for viewing next week on www.texaslonestaropen.com.
Angie Meier was the 2019 winner and also the highest scoring female. Ryan Dean was the highest scoring rookie. Finalists were Angie Meier, Jerrick Miller, Sixto Piaz, Tanner Ragan and Kyle Dykes. We raised money for Texas Scottish Rite Hospital For Children and showcased the auction business and profession! Plan to join us next year!
After fierce competition that was judged by 6 professionals in the auction industry, the winners were announced to the crowd. The 2019 winners are…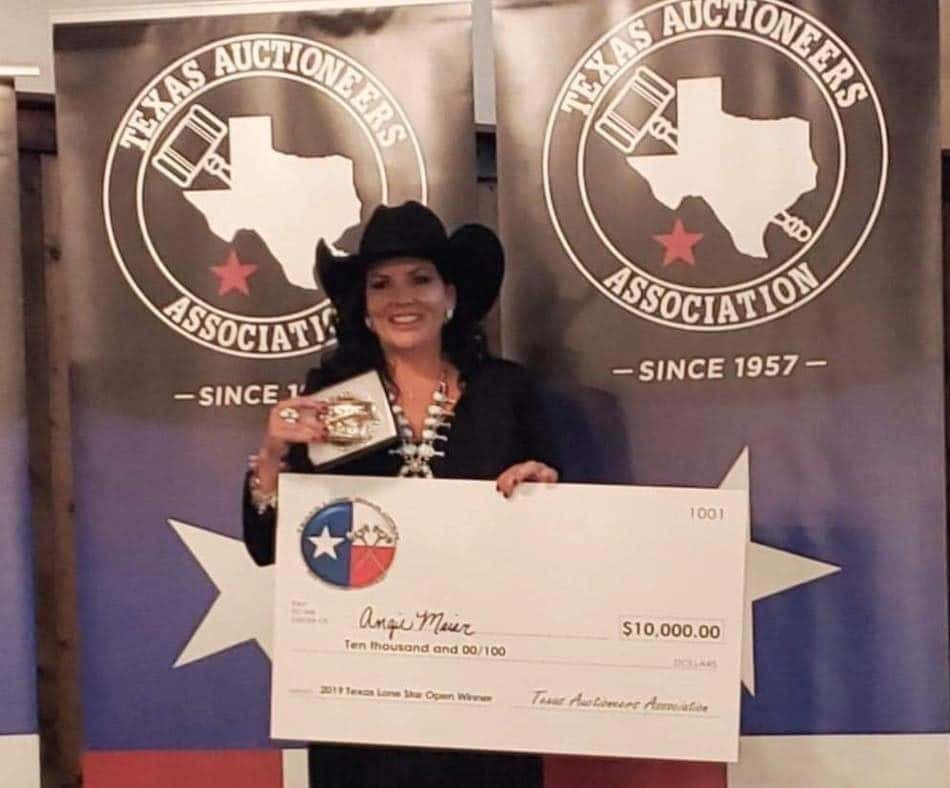 Champion
Angie Meier, Ennis, TX
Angie Meier is a fourth generation auctioneer and champion ringman. She received her auction license from Texas Auction Academy in 2005. She is the 2005 Texas State Rookie Auctioneer, the 2007 Texas State Champion Ringman, the 2007 International Ringman champion, was the 2007 World Automobile Team Champion with her husband and the 2011 Texas state champion auctioneer. She currently works as a contract Auctioneer at 5 Auto Auctions weekly in the Dallas Area. Angie also works Real Estate and Benefit Auctions nationwide.
Contact her at txauctionchick@aol.com
2nd Place
Tanner Ragan, Sulphur Spring, TX
Tanner is a licensed auctioneer in the livestock and automobile industry.
3rd Place
Jerick Miller, Cambridge, OH
Jerick is a third generation auctioneer who sells real estate, benefit auctions, machinery and motorcycles. He is a proud advocate of the live auction method of marketing. He graduated The World Wide College of Auctioneering in 2012 and is the 2013 Missouri State Champion, 2015 Iowa State Champion, 2015 Greater Midwest Champion and 4 time IAC finalist.
4th Place
Sixto, Piaz, Portales, NM
Sixto is a first generation auctioneer from Portales, NM. On a weekly basis Sixto sells anything from cattle, cars, heavy equipment, oil field equipment, benefits and estates. He has a current residency at a weekly car auction and cattle auction while also working for numerous equipment auctions across NM and TX.
5th Place
Kyle Dykes, Killeen, TX
Kyle was born and raised in Killeen, TX. In 2011, he graduated from the Texas Auction Academy in Dallas, TX. After graduating from Texas A&M University in December of 2013, Kyle worked as the Commercial Marketing Coordinator for the International Brangus Breeders Association. Kyle became a full-time auctioneer in October of 2016 and currently works weekly auto auctions across the State of Texas. He is the 2017 Texas State Auctioneer Champion and a past Texas Rookie Champion.
Top Scoring Rookie Auctioneer
Ryan Dean, Roland, OK
Top Scoring Female Auctioneer
Angie Meier, Ennis, TX