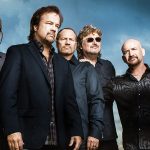 Keep that dial tuned to 92.1 Hank FM all week for your chance to win tickets to see Jack Frost, Gift of Lights, Restless Heart, or a $100 Teskey's Gift Card!
Jack Frost
Win a pair of tickets to the Friday, December 6th, 6:30pm performance of Jack Frost at Casa Manana! BRING THE ENTIRE FAMILY OUT FOR JACK FROST AT CASA MANANA NOV 22-DEC 23! Jack spends his days making spectacular ice sculptures and hanging with his friends in the Frozen Kingdom. One day tragedy strikes, and Jack, along with his friends, is banished from the kingdom by his evil uncle – who wants to destroy the world with a new ice age! Can a band of snowy misfits help Jack find his destiny and restore order to the kingdom? Santa Claus himself narrates this holiday spectacular where adventure awaits at every turn. November 22-December 23. Tickets at casamanana.org
Gift of Lights
Win a Gift of Lights at Texas Motor Speedway car pass!  Experience one and a half miles of AMAZING Christmas light displays while you stay in your warm car and listen to Christmas Music, and after the drive, stop at Santa's Village for pictures with Santa and lots more family fun!
Restless Heart
Win a pair of tickets to see Restless Heart at the Stagecoach Ballroom Saturday, Dec 7th!
Teskey's
92.1 Hank FM and Teskey's is hooking you up with some Holiday Dough this December to take care of that gift list.  Visit 921 hank fm dot com now to sign up for a chance to win a $100 gift card!
Share & Enjoy