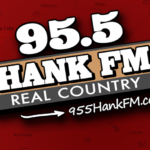 North Texas' home for REAL COUNTRY is HANK FM, playing the biggest hits from the 80's, 90's and early 2000's on 92.1 KTFW – Fort Worth and now on 95.5 KTWF – Wichita Falls. Real Country music for real country fans like YOU. Welcome to the party y'all!
Like 95.5 Hank FM now on Facebook, follow on Twitter and Instagram now!


Contact Norma Savage at 817-917-1285 or Norma@TheRanchRadio.com for information about how you can advertise ON AIR & ONLINE with Hank FM.