If you love music, you need to join us for Hank's Jam! Every Wednesday night from 7pm to 9pm, starting August 5th!  Spend your Wednesday nights this summer with your host, Andy Meadows at Old Texas Brewing Company in Old Town Burleson. Bring your guitar as we open the mic for acoustic performances special guest co-host every week before ending with an intimate performance by the guest co-host! Stay tuned for the latest details from 92.1 Hank FM.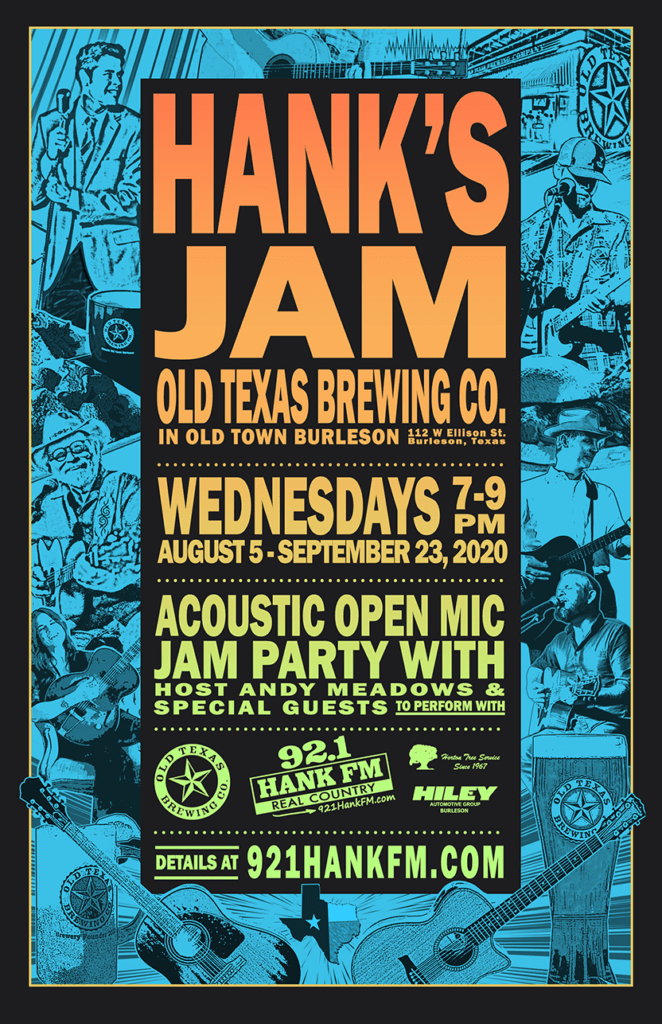 FEATURING
AUG 5 – Jarrod Morris
AUG 12 – David Adam Byrnes
AUG 19 – Jon Stork
AUG 26 – Tommy Alverson
SEPT 2 – Aaron Copeland
SEPT 9 – Cody Hibbard
SEPT 16 – Randy Brown
SEPT 23 – Summer Dean
SPONSORED BY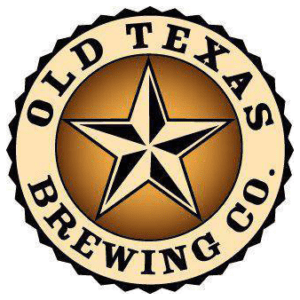 ---
2020 92.1 HANK FM "HANK'S JAM" RULES AND REGULATIONS
ELIGIBILITY: 
NO PURCHASE NECESSARY.  Open to legal residents of the United States.  Employees and Directors of KTFW, 92.1 Hank FM, their affiliated companies, participating Sponsors, information providers, content providers, subsidiaries, advertisers, advertising agencies, promotional and marketing agencies (and their immediate family members and those living in the same households) are ineligible.  By participating, you agree to these Official Rules and to the decisions of the judges, which are final and binding in all respects.
SPONSORS:
KTFW, 92.1 Hank FM
Old Texas Brewing Company
Hiley Mazda of Burleson
Horton Tree Service
HOW TO PLAY/SCHEDULE OF EVENTS:
Each week, beginning on Wednesday, Aug 5, 2020 and ending on Wednesday, Sept 23, 2020 at Old Texas Brewing Company in Burlsosn, KTFW will host Hanks Jam.
REGISTRATION BEGINS AT 6:30 PM:
Contestant may sign-up, free-of-charge, at the 92.1 Hank FM Registration/Promotional Table on-site at Old Texas Brewery in Burleson, TX
NOTE: CONTESTANT MUSTPERFORM SOLO, ACOUSTIC ACTS ONLY.
REGISTRATION ENDS AT 7 PM:
The first ten (10), first-time, participants are guaranteed a slot to perform.  Thereafter, the remaining open slots, if any, will be filled in with previous Hanks Jam participants.  Previous Participants will be randomly selected at 7 pm to fill remaining slots, up to (10) performers per event. Registration forms are then placed in random selection to determine the order of performance. 
START AT APPROXIMATELY 7 PM:
The Participant order of performance is announced.  The contestant will be called-up, based on the previously determined order, to perform one (1) song. 
PRIZING:
At the end of the series, all performers will go into a drawing to win a 2-night stay at the Omni Barton Creek Resort in Austin Texas with resort credit.  1 night of performing equals 1 entry in the final drawing.
MISCELLANEOUS INFORMATION:
Those who have participated in previous weeks but did not advance are eligible to compete in the following weeks.  However, first-time participants are guaranteed a spot in the first (10) available open spots before a repeat participants. 
NOTIFICATION AND PARTICIPATION
By performing, participants release and discharge all sponsors, affiliated companies and their parents, subsidiaries, advertising, and promotion agencies, and all their respective employees, officers, directors, representatives and agents from any liability associated with performing.  By participating you agree to grant KTFW, 92.1 Hank FM and all other sponsors the right to use the winners name, likeness, picture, portrait, hometown, voice, biographical information, written submissions and written or oral statements, for advertising and promotional purposes without additional compensation. 
NOTE: CONTESTANT IS PROHIBITED FROM DISTRIBUTING ANY MARKETING MATERIAL RELATED TO SALES AND/OR PROMOTIONS OF THEIR OWN ACT TO INCLUDE CDS, T-SHIRTS, FLYERS, MERCHANDISE AND ANY OF THE LIKE.  ANY CONTESTANT NOT ABIDING BY THIS REQUEST WILL BE DISQUALIFIED FROM THE 2012 CONTEST. 
RULES ARE SUBJECT TO CHANGE AT ANY TIME.