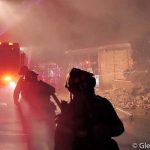 (Fort Worth, TX)  —  A resident is hurt but no firefighters are injured after battling a pair of fires in Fort Worth. 
Crews were called out to a blaze in a mobile home on Trinity Hills Lane around 10:15 Wednesday morning.  Minutes later and just blocks away, a second fire was reported on Wiman Drive.  That is where one person was injured. 
Both fires are under investigation.