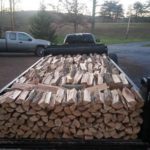 (Fort Worth, Tx) –  Fort Worth moving company, Gozova is donating firewood to North Texans left without heat.
Gozova has received more than 2,000+ requests in less than 36 hours since launching their free firewood for families in need project on Wednesday, Feb 17.  The company has delivered more than 180 bundles in the first two days — picking up donated and company purchased wood and driving these throughout the metroplex to families who submitted online.
To conclude their 3 days of community support, Gozova has decided to switch it up on Friday February 19 to help provide more wood to those in need by filling up a trailer of wood thanks to a local supplier and park it in front of Tulips Fort Worth.  Starting at 11:30 am and running 4 pm, families and neighbors in need can come and pick up their bundles to maximize their community impact and spread the warmth. Tulips has been operating as a warming station throughout the storm and will be open tomorrow to families to warm up when picking up their firewood.
Gozova team members will be onsite helping load bundles into cars and ensuring their community has enough firewood to get them through these final days of the winter chill.