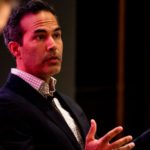 (Austin, TX)  —  The Texas Land Commissioner is considering a run for Attorney General.
KVUE reports that George P. Bush said Thursday he is "seriously considering" running for the AG post in 2022.  Bush says current Attorney General Ken Paxton faces several serious accusations.  Bush says the state's top law enforcement official should be above reproach.
Bush is nephew of former President George W. Bush and the son of former Florida Governor Jeb Bush.
Copyright © 2021 TTWN Media Networks LLC