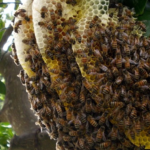 (Breckenridge, TX) —  One person is dead and another hurt after a bee attack in Stephens County.
The bees swarmed from a tree at a home in Breckenridge on Monday, sending one person into cardiac arrest.  When fire crews arrived, the swarm turned on them.
After the two victims were taken away from the home, a local beekeeper was called out to help find and remove the hive.
Copyright © 2021 TTWN Media Networks LLC