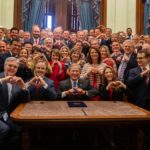 (Austin, TX) — Texas Governor Greg Abbott has signed the fetal heartbeat abortion bill, which does not allow an abortion to be performed after a heartbeat has been detected.
The bill also allows private citizens to sue abortion providers.  Opponents are worried the law will lead to civil lawsuits.  Supporters say abortion providers can avoid lawsuits by not performing the procedure after six weeks.
The law goes into effect in September.
Copyright © 2021 TTWN Media Networks LLC