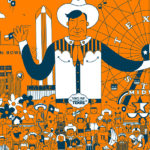 (Dallas, Tx) – After a year hiatus, due to the COVID-19 pandemic, the time-honored tradition is returning in all its Lone Star glory on Friday, September 24 through October 17 at historic Fair Park in Dallas.
The theme for the 135th State Fair of Texas is "HOWDY, FOLKS!".  Fair organizers say will adhere to all applicable CDC guidelines in place during the time the Fair takes place, as well as any local, state, or federal guidelines.
Season passes are now on sale at BigTex.com/Tickets.  More information on ticketing for the 2021 Fair will be available in the coming months.