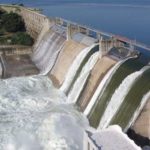 UPDATE:  The BRA posted on Facebook that the third gate at PK dam was closed around 10:30am
(Palo Pinto County, Tx) – The Brazos River Authority has issued a warning to communities downstream after opening a third flood gate at Possum Kingdom Lake just after 2pm Monday.
Officials said opening the additional gate at Morris Sheppard Dam forced the closure of Highway 16 downstream in Palo Pinto County and that the highway will remain closed as long as the third gate is open.  The BRA says residents living downstream of PK Lake should be on alert for rising river levels and potential for flooding, especially in areas prone to flooding.
The Brazos River Authority posted on their Facebook page that it takes approximately 18-24 hours for the water to reach the Horse Shoe Bend area in southern Parker County.