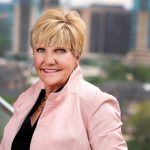 (Fort Worth, TX) — Mayor Betsy Price is bidding Fort Worth a fond farewell as her term in office ends.
Price was first elected to the office in 2011 and went on to become the longest-serving mayor in the city's history.  She took a few minutes to say goodbye at Tuesday's city council meeting.  As mayor, Price led Fort Worth through some tough times, most recently including the pandemic and the winter storm.  She referred to her time in office as an "amazing ride."
Price's former chief of staff, Mattie Parker, was elected mayor in a runoff election on Saturday.  Parker will become Fort Worth's youngest Mayor.
Copyright © 2021 TTWN Media Networks LLC