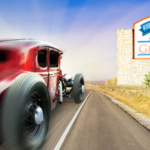 Dad's the man and his day is right around the corner. Forget ties and kiss BBQ aprons goodbye. This Father's Day, all roads lead to Granbury and Cresson! Make memories Friday June 18th through Sunday June 20th! Car shows, driving experiences, free outdoor movie, and more! Sunday marks the spectacular return of the Great Race! Marvel over 200 classic cars making their way from San Antonio to Greenville, South Carolina at their scheduled stop in Granbury! Stay the weekend, go home restored!
---
HANK'S GREAT RACE CAR SHOW: 5-7pm at Hewlett Park

Hank FM presents the Great Race Car Show Saturday, June 19th from 5 to 7 at Hewlett Park in Granbury. The Great Race returns to Granbury Father's Day weekend and Hank is hosting a spectacular classic car event followed by a movie in the park. Warner Brother's The Great Race, of course! Hank's Great Race Car Show. Show off your classic and cast a vote for the fan favorite trophy before the film! Brought to you by Street Side Classic Cars, Visit Granbury, and Hank!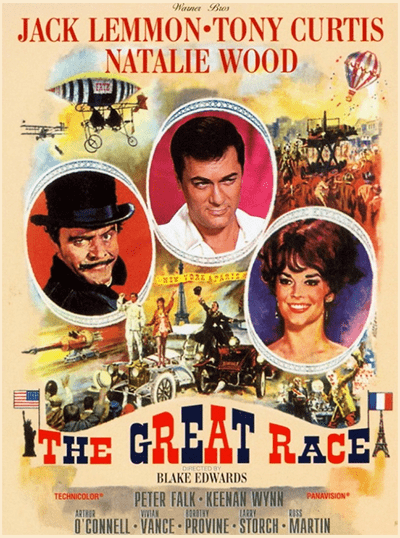 BROUGHT TO YOU BY
---
WHAT IS THE GREAT RACE?

The Great Race is an antique, vintage, and collector car competitive controlled-speed endurance road rally on public highways. It is not a test of top speed. It is a test of a driver/navigator team's ability to follow precise course instructions and the car's (and team's) ability to endure on a cross-country trip. The course instructions require the competing teams to drive at or below the posted speed limits at all times.
---
WEEKEND SCHEDULE

Plan your weekend of fun around a great Auto Lovers Weekend in Granbury! Spend time at Farr's Movie Car Museum and see the Batmobile… Ghostbuster's Ecto-1… and the DeLorean Time Machine! Experience the thrill of car racing with DriveXotic! Drive your vehicle around a pace car. Make your reservations with DriveXotic and make the memories over Father's Day Weekend.
Sunday, come welcome the 200+ drivers in classic vehicles as they drive in to Granbury, 12-2pm, for their luncheon. Cheer them on and show the #GranburyLove!
Also! Get your children involved before the event in the coloring contest (ages 4-12)  drawn by Visit Granbury's Favorite Granburian, Mr. JC Campbell!, are available to download here. Please turn them in by June 14th for judging. All colorings will be on display in Celebration Hall for the drivers to see while on their Granbury stop!
See the complete schedule below…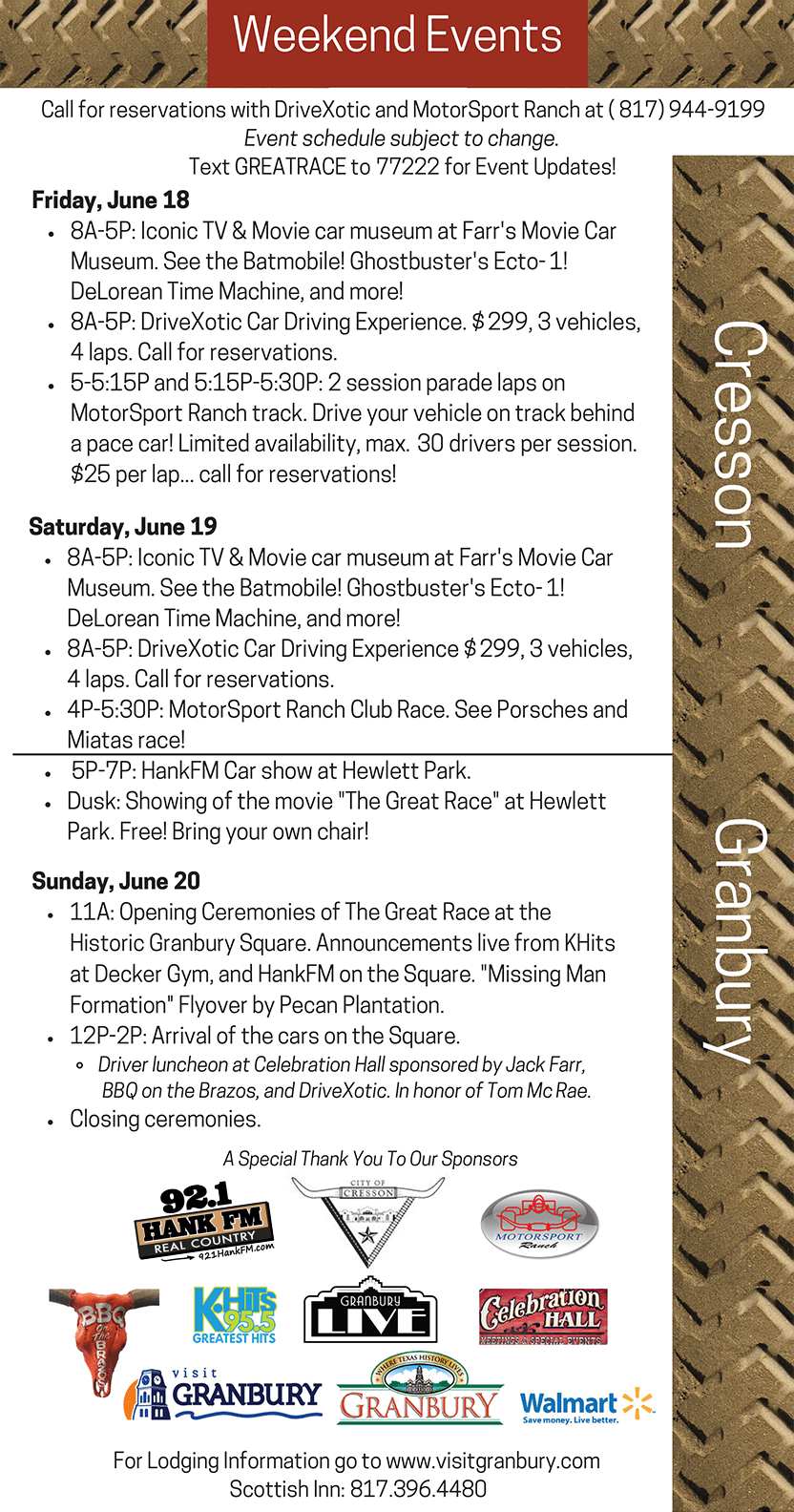 CLICK HERE FOR THE LATEST DETAILS