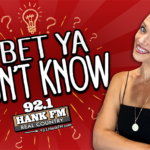 Join Erin Wilde Daily in the 1 o'clock hour for Bet You Didn't Know! Erin tries to stump listeners with a random trivia question on air and in a Facebook post and requests calls and texts with the correct answer. Erin keeps taking responses until someone gets it right and a winner is declared!
If you know the answer be sure to call 817-877-1921!
HINT: Save this phone number in your phone NOW.
---
See If You Know The Answers To These Questions...