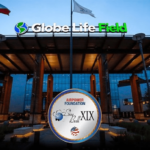 SKY BALL XIX TO BE HELD AT GLOBE LIFE FIELD HEADLINED BY COUNTRY MUSIC ICONS BIG & RICH
The annual event put on by the Airpower Foundation enters a new era in Arlington on Thursday, Nov. 4th kicking off a weekend of military appreciation.
The largest fundraiser for military support programs in the country, Sky Ball XIX, returns for 2021 to a new home at Globe Life Field in Arlington.
We are excited to present Sky Ball XIX on one of the grandest stages in the country, inside the new home of the Texas Rangers at Globe Life Field," Airpower Foundation Chairman and Sky Ball Chairman Sid Eppes said. "The evening will be in celebration honoring America's armed forces and an opportunity to raise money for many great organizations who provide support to military members and their families."
This year will mark the 19th Sky Ball event, having raised over $24 million in funds for military support programs through the years. This is the first year the event will be held in Arlington and will feature CBS11 news anchor, life-long armed forces supporter, and Gold Star son Doug Dunbar as our master of ceremonies.
"Sky Ball is back, bigger and better than ever," Honorary Co-Chairman and former Arlington Mayor Jeff Williams said. "Arlington and the Texas Rangers are proud to be the new home for Sky Ball. We're going to have a fantastic evening raising money for truly incredible organizations supporting our military and their families."
A limited number of tickets remain for Sky Ball and are available for purchase through the Airpower Foundation's website