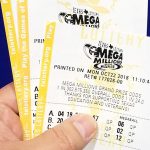 (Highland Village, TX) — Highland Village in Denton County is the home of a new millionaire.
The fortunate resident has claimed a Lotto Texas jackpot worth more than 16-million-dollars.  The winner bought the ticket on New Year's Day at a RaceTrac store on Justin Road in Flower Mound.
He or she chose to remain anonymous and decided on the one-time payout of just over $12-million before taxes.
Copyright © 2022 TTWN Media Networks LLC