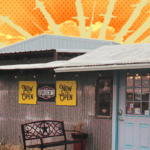 If you love music, you need to join us for Hank's Jam every Wednesday night from 7 pm to 9 pm starting March 9th!  Spend your Wednesday nights with Hank FM at Brock's Food & Drink in Granbury, Texas! Bring your guitar as we open the mic for acoustic performances with a special guest co-host every week before ending with an intimate performance by the guest co-host.
Stay tuned for the latest details from 92.1 Hank FM!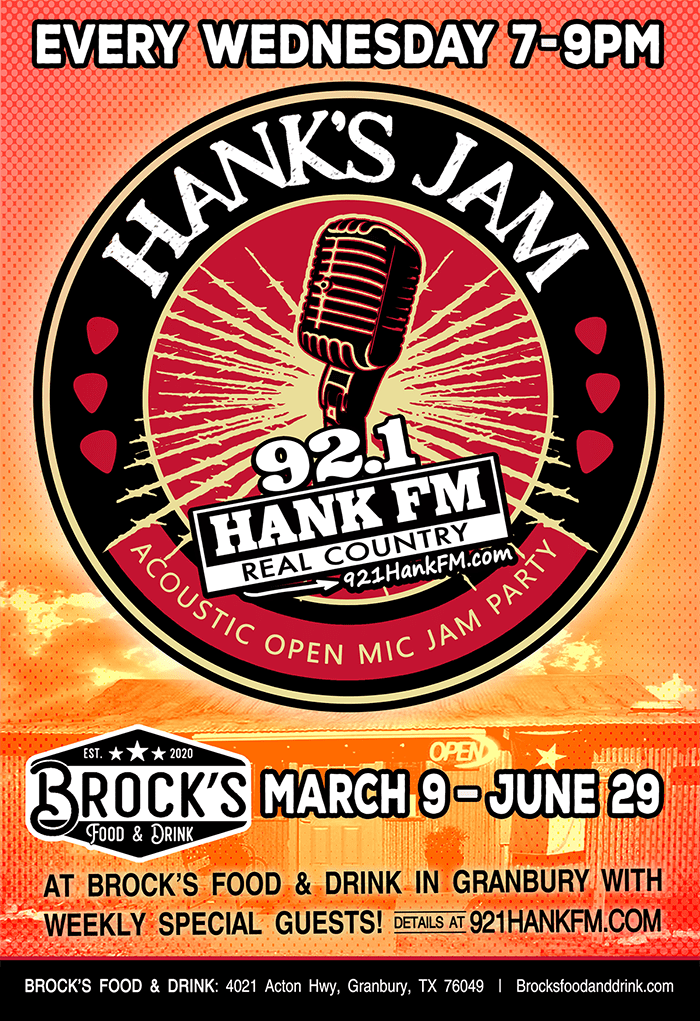 FEATURING
Mar 9 – Matt Hillyer
Mar 16 – Tommy Alverson
Mar 23 – Steve Helms
Mar 30 – Thomas Michael Riley
April 6 – Wisper Cox
April 13 – Randy Brown
April 20 – Kayla Ray
April 27 – Aaron Copeland
May 4 – James Lann
May 11 – Seth Ward
May 18 – Randy C. Moore
May 25 – Casey Chestnutt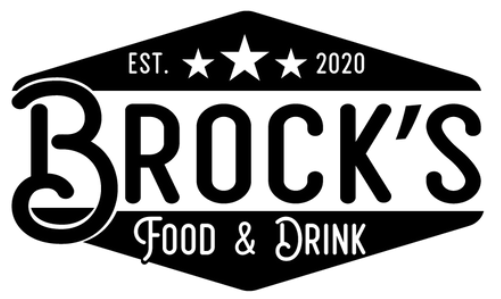 SPONSORED BY
---
2022 92.1 HANK FM "HANK'S JAM" RULES AND REGULATIONS
ELIGIBILITY: 
NO PURCHASE NECESSARY.  Open to legal residents of the United States.  Employees and Directors of KTFW, 92.1 Hank FM, their affiliated companies, participating Sponsors, information providers, content providers, subsidiaries, advertisers, advertising agencies, promotional and marketing agencies (and their immediate family members and those living in the same households) are ineligible.  By participating, you agree to these Official Rules and to the decisions of the judges, which are final and binding in all respects.
ADMINISTRATOR:
KTFW, 92.1 Hank FM
SPONSORS:
Brock's Food & Drink
Dispatch Wrecker Service
Horten Tree Service
Maclaskey Oilfield Services
Affordable Urgent Care
Teskey's
EVENT: 
Hanks Jam is a 17 weeklong open mic competition happening Wednesdays between the dates of March 9, 2022 – June 29, 2022, at Brocks Food & Drink in Godley, TX. 
Each week a fan favorite will be awarded a weekly prize based on onsite fan voting.  At the end of the  event, all weekly fan favorite winners will go into a drawing for a grand prize.
REGISTRATION BEGINS AT 6:30 PM:
Contestant may sign-up, free-of-charge, at the 92.1 Hank FM Registration/Promotional Table on-site at Brock's Food & Drink in Granbury, TX.  NOTE: CONTESTANT MUSTPERFORM SOLO, ACOUSTIC ACTS ONLY.
REGISTRATION ENDS AT 7 PM:
The first ten (10), first-time, participants are guaranteed a slot to perform.  Thereafter, the remaining open slots, if any, will be filled in with previous Hanks Jam participants.  Previous Participants will be randomly selected at 7 pm to fill remaining slots, up to (10) performers per event. Registration forms are then placed in random selection to determine the order of performance.  Each contestant will be allowed to perform one (1) song.
VOTING:
Following the last contestant of the night voting will be open for the crowd, 1 vote per person age 16 and above.  The crowd favorite each night will win a weekly prize and go into the grand prize drawing to be held on the final night of competition, June 29, 022.
PRIZING:
Weekly Fav Favorite – a $100 gift card to Tesekey's in Weatherford.  Winner will claim gift card from the store customer service desk.
Grand Prize – 4 hours of recording time at Roughwood Recording Studios.
NOTIFICATION AND PARTICIPATION
By performing, participants release and discharge all sponsors, affiliated companies and their parents, subsidiaries, advertising, and promotion agencies, and all their respective employees, officers, directors, representatives and agents from any liability associated with performing.  By participating you agree to grant KTFW, 92.1 Hank FM and all other sponsors the right to use the winners name, likeness, picture, portrait, hometown, voice, biographical information, written submissions and written or oral statements, for advertising and promotional purposes without additional compensation. 
NOTE: CONTESTANT IS PROHIBITED FROM DISTRIBUTING ANY MARKETING MATERIAL RELATED TO SALES AND/OR PROMOTIONS OF THEIR OWN ACT TO INCLUDE CDS, T-SHIRTS, FLYERS, MERCHANDISE AND ANY OF THE LIKE.  ANY CONTESTANT NOT ABIDING BY THIS REQUEST WILL BE DISQUALIFIED FROM THE 2012 CONTEST. 
RULES ARE SUBJECT TO CHANGE AT ANY TIME.