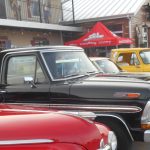 Bust your car out of the garage and join 92.1 Hank FM, Thursday evenings Sept 6 – Oct 27 for Cruise Night at Boo-Rays in Hudson Oaks 7-9pm! Bring your Classic Car or Truck, or just hang out and enjoy great food, music and prizes from 92.1 Hank FM!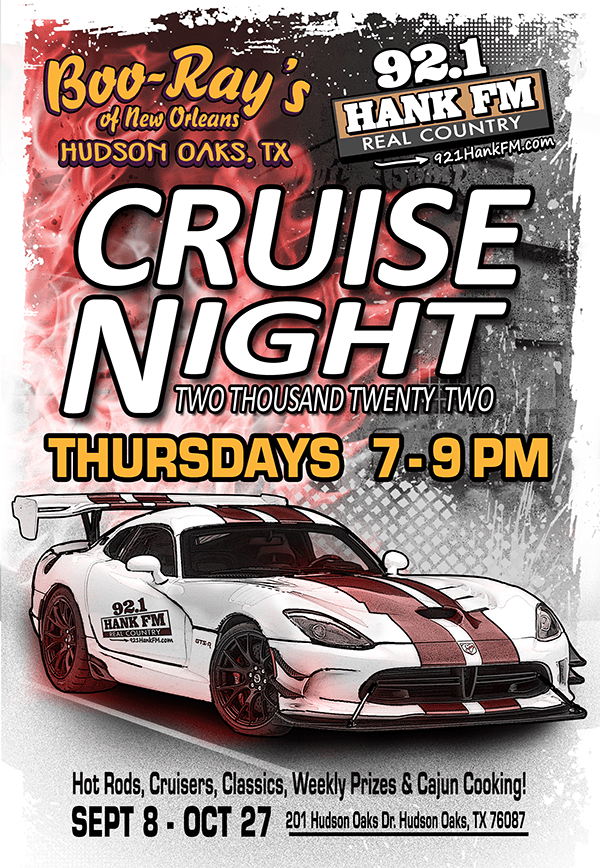 We'll open voting to everybody and crown a crowd favorite, with the winner receiving a plaque! 

201 Hudson Oaks Dr. Hudson Oaks, TX 76087
THURSDAYS NIGHTS ARE PRESENTED BY
SUPPORTED IN PART BY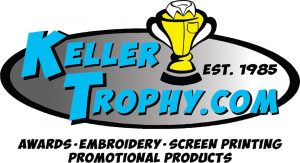 ---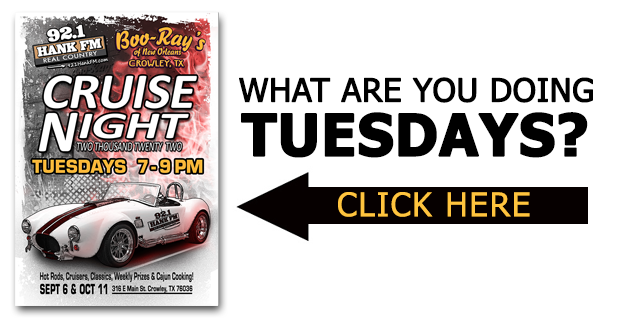 ---
92.1 Hank FM Cruise Night
Official Rules
Eligibility:
NO PURCHASE NECESSARY.  Open to legal residents of the United States.  By participating, you agree to these Official Rules and to the decisions which are final and binding in all respects.
Sponsors:
92.1 Hank FM, 115 West 3rd St, Fort Worth, TX 76102
Boo-Rays, 201 N Lakeshore Dr, Hudson Oaks, TX 76087
Richard Sloan Drywall and Urethane Foam Inc, 265 Valley Ln, Weatherford, TX 76085
How to Enter:
Sign in at 92.1 Hank FM promotional table, display provided number on car in a highly visible area (i.e. windshield or window).
Conditions of Participation:
92.1 Hank FM and other Sponsors are not responsible for any damage to property while participating in Cruise Night.  By participating in this contest, you grant 92.1 Hank FM and all other Sponsors the right to use the winners name, likeness, picture, portrait, hometown, voice, biographical information, written submissions and written or oral statements, for advertising and promotional purposes without additional compensation.
Voting:
Voting is open from 8:30 pm to 8:45 pm.  Paper ballots are provided at the Hank FM promotional table for the Weekly Fan Favorite voting; each person may only vote one time.  At 8:45 pm, all paper ballots will be counted and the car with the most fan votes, combined with station judge's vote(s) will be the Weekly Fan Favorite.
The Weekly Fan Favorite will be announced at approximately 8:50 pm.
On the final night, Oct 27, all past weekly fan favorites who are in attendance will go into a random drawing for the Grand Prize trophy/
After votes are calculated, the Weekly Fan Favorite will be awarded a plaque.  All decisions on prizes and winners are final and are not subject to review based on allegations of voting error, improper voting, and/or level of attendance.
Terms:
Entrants understand any information provided will be used in accordance with the Station's Privacy Policy, located 921HANKFM.com.
Employees, agents or affiliates of the Station, LKCM Radio Group LP or participating sponsors, along with their immediate family or household members, are not eligible for participation.  Immediate family includes, but is not necessarily limited to: spouses, parents, children, siblings, grandchildren, and grandparents.
If the station deems that an entry is ineligible for prize, another entry may be selected.
Federal, state and local taxes may apply and are the responsibility of the prize winner.
The Station, all sponsors and affiliates have no liability for any injury or damage to either persons or property incurred by entering or participating in any contest and/or the use of any prize.
The station reserves the right to disqualify or render ineligible any entry based on its sole discretion.  The station judges voting carries a 10 to 1 ratio over spectator votes and can be counted to break any ties or overrule an unqualified entry.
The Station reserves the right to change, update, or amend any rules without prior written notice.
By participating, all Entrants give the Station, Sponsors and affiliates unrestricted rights to any photos, video, recordings, information collected in relation to the contest for promotional or any use they deem appropriate, without compensation.
By participating, all entrants are agreeing to the Official Contest/Prize Rules.