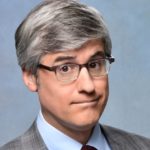 Mark Phillips chatted with Bob Jameson today, CEO of Visit Fort Worth about the 2023 Annual Meeting on February 17th with Keynote speaker Mo Rocca!
Listen to the interview and find out how to get on the wait list for the sold out event here!
Each year Visit Fort Worth brings the tourism, business, sports, hospitality and creative industries together to celebrate growth, collaboration and community. Annual reporting such as economic impact for visitors, sports and film are shared along with visitation numbers and local visitor spend.
"We like to think of our annual meeting as a pep rally for the city," said Mitch Whitten, COO of Visit Fort Worth. "We are thrilled to bring the community together for the tenth year in a row and share the surprises in store…"
Get on the waitlist by visiting Visit Fort Worth online!