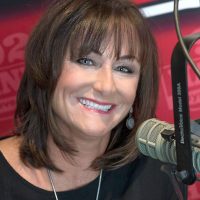 Marlee McCormick
MONDAY to FRIDAY -- 06:00 AM - 10:00 AM
The KB & Marlee Show
Marlee McCormick has come home to Hank FM!  
A former member of the 92.1 Morning Show from 2003 – 2010, Marlee makes her return to Country Music radio after an 8 year stint in the news/talk format.
She spent the last 4 years anchoring the Morning News at WBAP, where she received the 2017 Texas Associated Press award for "Best Newscast" in radio.  Marlee also served as a midday news anchor at KRLD AM in Dallas  and the Texas State Network News.  She got her start in radio at 95.9 The Ranch in the early Weatherford days, where she lived and raised her four daughters for 20 years.
A native Texan, Marlee received her degree in Communications from the University of Texas at Austin (she requires we throw in a hearty "Hook 'Em").  She has not only anchored the news, she's gotten out and covered it in the field.  As a network reporter for CBS Radio, she covered the trial of Fort Hood shooter Nidal Hassan.  When the historic floods of 2007 hit Parker County, Marlee was on the scene covering the news live in addition to helping with evacuation efforts.
Marlee has been involved with many community organizations. Although  80's rock is still her passion, classic country music holds a special place in her heart! She's also a big sports fan and loves to play Fantasy Football.  Marlee and her husband Jeff currently live in Dallas, where they enjoy traveling and being "empty nesters".
(Photo by: Megan Parks)
You can reach Marlee McCormick at..
Follow her on Twitter @MarleeMcCormick

2017 Texas Associated Press award for "Best Newscast" in radio (major market)
As part of a news team at WBAP, Marlee won a NAB Regional Marconi for coverage of the 2015 "Christmas Tornadoes" in North Texas
Share & Enjoy