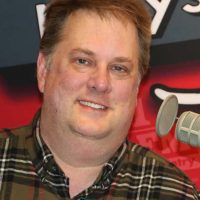 Mike Sheppard
Sunday -- 10:00 AM - 02:00 PM
Monday -- 12:00 AM - 06:00 AM
Tuesday -- 12:00 AM - 06:00 AM
Wednesday -- 12:00 AM - 06:00 AM
Thursday -- 12:00 AM - 06:00 AM
Friday -- 12:00 AM - 06:00 AM
The Mike Sheppard Show
Mike Sheppard's radio career goes back to 1988 and includes stops at a half dozen or so radio stations over the years. Most of the stations were in Dallas but all of them have been in Texas as Mike is proud to be a native Texan.
Being on the radio is what Mike has most wanted to do since childhood. At the age of 6 a baby sitter asked about his enthusiasm for playing DJ with records on the stereo. He informed her that this is what he would do when he grew up. He told her he was going to build studios and put up a tower on his grandfather's farm in Denton County. As it turns out the FCC sort of frowns on the unlicensed high power radio station sort of thing and he wound up here at Hank FM.
Mike is a Tarrant County resident and when not indulging his passion for playing Real Country music, an opportunity that is hard to find these days, he is kept busy by his 3 teenage sons (including a set of twins!) and his wife who has faithfully put up with him for over 20 years now.
Catch Mike on Hank-FM weekends playing the best country music, Real Country as we call it – the kind that is hard to find on the radio these days. One of the things that Mike likes most about working at Hank FM is that it really is like working with family. True locally owned and operated radio stations that are a part of the community are just more fun to work for – and listen to!
You can reach Mike Sheppard at..
Share & Enjoy