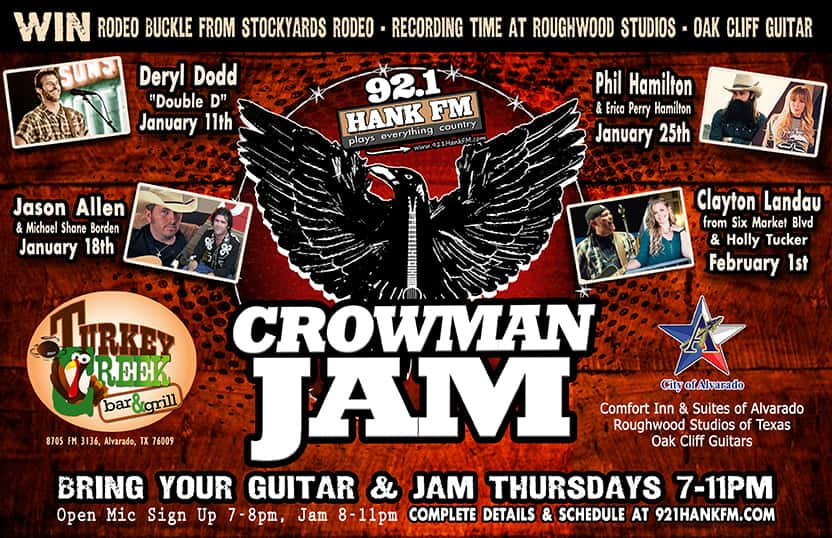 Come kick back and play a few bars with Crowman and all his pals
under the stars Thursday January 11th – February 15th at
Turkey Creek Bar & Grill! Local Singers come out for the
Open Mic segment or just come to enjoy the great food
and see some of Texas' Best Singer-Songwriters
perform as our Guest Artists!

Note: In case of bad weather, we'll move the party inside.

Performers will also compete for a
chance to win…
An autographed acustic guitar from Oak Cliff Guitars
Recording time at Roughwood Studios of Texas
A Rodeo Buckle from Stockyards Rodeo
See complete rules at the bottom of the page.


Remember… this event is BYOG
(Bring Your Own Guitar)
CROWMAN JAM GUEST ARTISTS
Jan 11
Deryl Dodd
Jan 18
Jason Allen
Michael Shane Borden

Jan 25
Phil Hamilton
Erica Perry Hamilton
Feb 1
Clayton Landau of Six Market Blvd
Holly Tucker
Feb 18
To Be Announced
Feb 15
To Be Announced
The Crowman Jam at
Turkey Creek Bar & Grill,
8705 FM 3136, Alvarado, TX 76009
SPECIAL THANKS TO
CROWMAN JAM CONTEST RULES
PERFORMER CONTEST
2018 Crowman Jam Official Rules (January 11th – Feb 15th)
and Regulations Presented by
92.1 Hank FM
Eligibility
All contestants must be 18 years or older at the time of entry. Eligible participants must not have a current major label recording contract. Entrants cannot be employed by or immediately related to employees of The Ranch Radio Group or any other "sponsors", defined below.  92.1 Hank FM and Sponsors reserve the right to disqualify or render ineligible any entries based solely on their discretion.How to Play
Each Thursday, beginning on January 11, 2018 and ending on February 15, 2018, at Turkey Creek Bar & Grill in Alvarado, TX, 92.1 Hank FM will host Crowman's Jam, 8pm-11pm.  Every week will be an open mic for any singer/songwriter to get on stage and perform.  The number of songs to be performed will depend on the number of entries that day.
NOTE: CONTESTANT IS PROHIBITED FROM DISTRIBUTING ANY MARKETING MATERIAL RELATED TO SALES AND/OR PROMOTIONS OF THEIR OWN ACT TO INCLUDE CDS, T-SHIRTS, FLYERS, MERCHANDISE AND ANY OF THE LIKE.
REGISTRATION:
All performers must sign in and fill out a registration form at the 92.1 Hank FM promotional table beginning at 7pm.  By filling out the registration form, the performer consents to allow 92.1 Hank FM to use any photos, audio recordings, and/or video clips for promotional use. 92.1 Hank FM is not responsible for damages, or injury, or loss of equipment due to the performance.   No purchase necessary to enter. Performers must register no later than 8pm to be guaranteed a performance.
Pre-Registration:  Any performer that is signing in and was also registered the prior week in the same event will have the option of pre-registering for the following week as well. Performers that are pre-registered for the following week must arrive by 8pm or risk being dropped from the line-up.
In all cases, performers must sign in and fill out a registration each week that they perform.
When pre-registering, a performer may select where in the order they want to perform, this is first come first serve. However, the Hank FM staff and management reserves the right to rearrange the performance schedule at any time.
Weekly Prizes: During the event Hank FM will draw for various prizes, tickets and t-shirts in random drawings throughout the night. All performers, guests, customers and listeners are eligible to win. Depending on availability, Hank FM may award a prize through a random drawing to one of our registered participants at the end of the event.
Performers Random Drawing Grand Prizes: At the conclusion of the 1-month series, each participant who performed will go into a drawing for the grand prize.   Each week that a person participates equals 1 entry.  Any performer that registered and performed every Wednesday night would have 6 entries in the drawing. Three Winners will be drawn at random from all entries to win one of these prizes. …
>>A Hank FM Stockyards Rodeo Buckle
>>Oak Cliff Acoustic Guitar, autographed by Texas Music Artists
>>5 Hours of Studio Recording Time at Roughwood Studios of Texas.
Audience Voted Prizes: Voting may or may not take place each week. Should the audience be able to vote, they will then vote for their favorite singer/songwriter of the night.  Voting can be done each week prior to the participant's performance and only one vote per person. Voted winners are subject to the same rules and regulations as other winners in the event.
All prizes are non-transferable or assignable and cannot be redeemed for cash or other consideration, and no substitutes will be allowed except by Sponsor who reserves the right to substitute prizes of equal value or nature if advertised prize is not available.  Each prize winner is responsible for compliance with all federal, state and/or local laws and regulations that apply, including, without limitation, payment of applicable taxes.  All expenses not specifically provided in the Crowman's Jam prize package are the responsibility of the prize winner.
All decisions on prizes and winners are final and are not subject to review based on allegations of voting error, improper voting, and/or level of attendance during time of performance.  KTFW, 92.1 Hank FM reserve the right to refuse anyone entrance into this contest KTFW, 92.1 Hank FM will have the final say as to who the winner is.
Sponsors
92.1 Hank FM
115 West 3rd Street, Fort Worth, TX 76102
817-332-0959
Turkey Creek Bar & Grill
8705 FM 3136, Alvarado, TX 76009
817-783-2121
RULES ARE SUBJECT TO CHANGE
Share & Enjoy