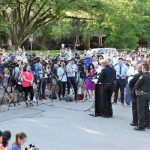 In a surprise move, the City of Fort Worth ousted Police Chief Joel Fitzgerald following a press conference where everyone seemed united.  Hank Wants To Know….
Loading
Did the City of Fort Worth do the right thing by firing Joel Fitzgerald?
Thank you for voting.
You have already voted on this poll !
Please select an option !