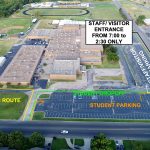 (Stephenville, Tx) – A groundbreaking ceremony for Stephenville High School and Gilbert Intermediate construction projects takes place at 8 a.m.
Wednesday, Aug. 14.  The ceremony will be located in an area next to the football practice field inside of the construction fencing.  District officials, SISD board members, community leaders and members of the Citizens Advisory Board are expected to attend.
Stephenville Superintendent Matt Underwood tells the Empire Tribune it's "challenging but exciting" …to finally be breaking ground on these projects.  Underwood said "It's been over a year in the waiting – not a year in the making – a year in the waiting".
A virtual tour of the new facility is also being put together to show teachers in a sneak preview of the tour.  Underwood said he hopes the virtual tour will be completed later next week.
Share & Enjoy