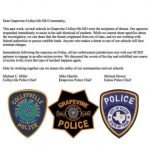 (Grapevine, Tx) – Parents and students in the Grapevine Colleyville School District will notice and increased police presence this morning at all campuses after threats were made to several schools in the district within the last week.
GCISD Superintendent Robin Ryan posted a letter saying threats were made against Grapevine Middle School, Cross Timbers Middle School, and Glenhope Elementary.  Ryan also said administrators will offer additional counselors to students who may be frightened by the threats.
Police say 5 threats came in the form of phone calls and that they reportedly all came from the same phone number.