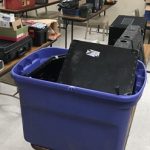 (Stephenville, Tx) – A search at a home in Stephenville nets a large quantity of stolen property, police believe is connected to at least 20 burglaries.
Stephenville Police say they executed a search warrant at the home Monday, recovering tools, game consoles, computers, sound equipment and various electronics.  Items they say were taken from area buildings and vehicles over the last month.  Investigators say they're trying to get the property back to the rightful owners, some they have identified, some they have not.  The department wants anyone who might have been a victim to come by and claim their property.
No arrest has been made yet in the case, but police expect one soon.
Share & Enjoy