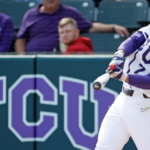 (College Station, TX) — Jim Schlossnagle is headed to Aggieland.
Texas A&M announced today they had hired the longtime TCU coach with AD Ross Bjork saying he'll help turn Aggie baseball into a championship-caliber program.  Schlossnagle says College Station has great facilities and will become a regular visitor to the College World Series.
A source tells the Fort Worth Star-Telegram the Horned Frogs offered him more money than A&M, but Schlossnagle sees the SEC as a challenge.
Copyright © 2021 TTWN Media Networks LLC