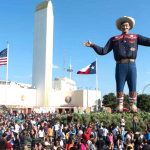 (Dallas, TX)  —  The State Fair of Texas opens in a little over 100-days, and the fair is looking to hire thousands of seasonal workers.
Applications for seasonal jobs at the fair can be found online, in areas such as coupon sales, creative arts, gates, games, guest services, livestock, and maintenance.  The fair offers more than seven-thousand seasonal job opportunities each year.  The starting pay is 12-38 an hour, up from 11-15 an hour in 2019.
Last year's fair was canceled because of the pandemic.  Applicants will need to show proof of vaccination.
Copyright © 2021 TTWN Media Networks LLC