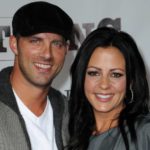 Sara Evans' estranged husband Harry "Jay" Barker has been arrested after attempting to hit the country singer with his car in Nashville, Tennessee on Saturday. Evans and Barker are currently separated.  Barker was charged with felony aggravated assault with a deadly weapon, per his arrest report. The former NFL player was placed on a 12-hour domestic violence hold at Davidson County Jail in Tennessee, and his bond was set at $10,000. He was released on bond around 7:30 p.m. local time on Saturday.
According to an affidavit, Evans was heading home from a gathering at her neighbor's house in the passenger side of a friend's car to ride across the street to her house. The report states that when they were passing the driveway, Barker was "reversing his vehicle at a high rate of speed attempting to hit them, but missed." Evans reportedly contacted police after the incident when Barker allegedly drove away. Police say Barker later returned to speak with them prior to issuing a warrant for his arrest. Evans and the unnamed witness claim that Barker was intentionally trying to hit them.
Evans and Barker were introduced by a mutual friend as they were each going through divorces. The couple tied the knot in 2008, two years after the country singer filed for divorce from her first husband Craig Schelske after about 13 years of marriage. Evans shares three children with Schelske — Avery Jack, 22, Olivia Margaret, 18, and Audrey Elizabeth, 17 — but did not have children with Barker.  Barker has four children with his ex-wife Amy DiGiovanna, whom he was married to from 1995 – 2007.
Per his arrest records, Barker is due back in court on March 22. He issued a statement on Sunday afternoon (Jan. 16) on Instagram, saying in part that he's "humbled beyond words by the support I have received from friends, supporters, and so many in the Alabama family."  Said Barker: "We all confront challenges in life, and my family and I are facing one now. Unfortunately, headlines and quick-to-publish news stories do not adequately capture the full context and complex fabric of our lives. I love my family dearly, and at this difficult time, I respectfully ask for privacy for the sake of my family and especially for our kids."
Editorial credit: s_bukley / Shutterstock.com