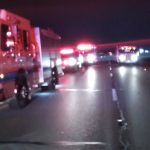 (Fort Worth, Tx) – Fort Worth police are investigating a fiery crash that happened overnight north of downtown.
Investigators say a pick-up with five people slammed into a tree and caught fire, in a wooded area off Cold Springs Road, just west of I-35W.  It happened just before 2am.  All five people in the truck died at the scene.  A sixth person believed to be a homeless man sleeping near the crash site was badly burned and taken to Parkland Hospital in critical condition.
Fort Worth PD says investigators are still trying to determine what caused the driver to lose control of the truck.
Share & Enjoy