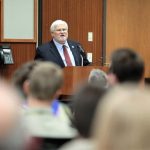 (Dallas, TX) — Another Texas Republican congressman is announcing he will not seek reelection.
Representative Kenny Marchant announced Monday that he's retiring.  He is the 11th House Republican, and the fourth from Texas to make the announcement, including Rep Mike Conway whose district covers Palo Pinto, Hood, Comanche and parts of Johnson and Somervell Counties.
Three of those Republicans, including Marchant, won their last elections by five percentage points or less, making their districts possible pickup opportunities for Democrats.  Marchant represents a district that stretches from East Fort Worth, to Grapevine, through the mid-cities, then up to Plano.
Copyright © 2019 TTWN Media Networks LLC