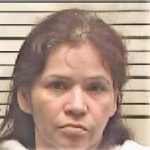 (Corsicana, TX) — A woman faces charges after a child in Corsicana died Saturday from injuries caused by boiling water.
Police say 42-year-old Juana Marquez told them the four-year-old girl pulled the pot of boiling water off the stove and was scalded when it splashed her.  Marquez reportedly didn't take the girl to the hospital, but rather tried treating her on her own.  She later called police to the home on South 34th Street, where the girl was unresponsive.
Marquez now faces a felony charge of abandoning or endangering a child.
Copyright © 2019 TTWN Media Networks LLC